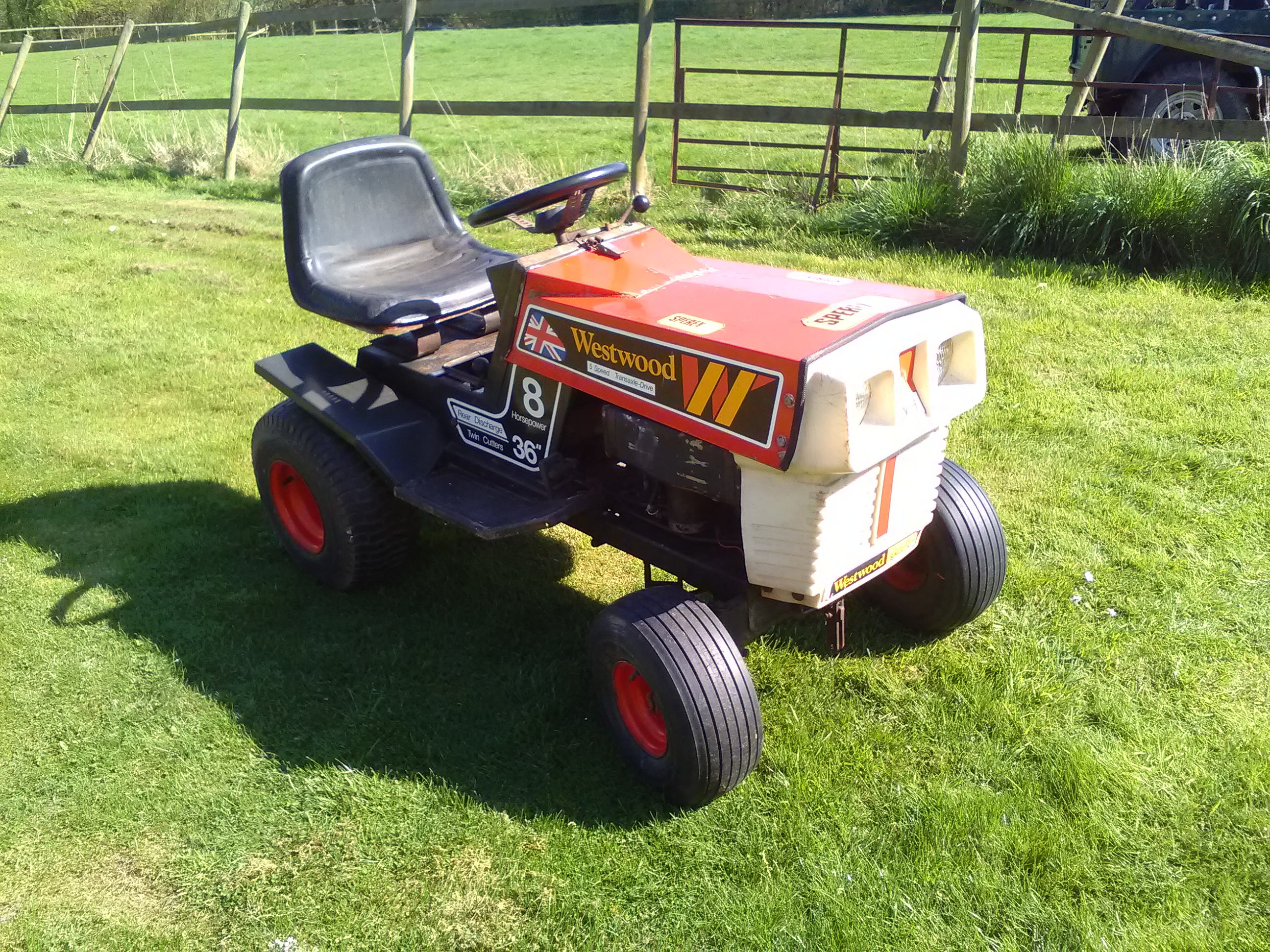 WestwoodW8Gazelle
Members
Content count

16

Joined

Last visited
Everything posted by WestwoodW8Gazelle
WestwoodW8Gazelle posted a topic in Ride On's

Hi all, and of course Westwood fans that may be interested... I have bought a 1978 W8 Westwood gazelle 'pale face', starts on the key. 8 horsepower, column gear change. I have recently replaced points and condenser which seemed to of solved the problem, as before when the mower ran for a few minutes the engine used to cut out. I have also replaced air filter for the first time in 39 long years! 😂 I have also given the engine numerous amounts of oil changes as when I bought the mower last year there was lots of residue like sludge left in the oil. After all the work, engine starts and runs lovely. ☺ About a month ago... I was cutting grass and tried using the clutch and the clutch wouldn't stop the machine!!! So had to shut off the machine before I nearly collided. 😂😨 Only to find the drive belt had slipped off the pulley. This has made me by a new drive belt with two new pulleys. The pulleys arrived but wasn't convinced they were the right size, so I sent them back. Kept the drive belt. Unfortunately I am having troubles with finding the right size pulleys for the mower. If anyone has a pair of unused original metal Westwood Gazelle pulleys for sale, or know where to find some. Please tell me. Thanks. Here's some pics of my Westwood last year.

Wow that's one early bug. Looks really cool. Just like stepping back in time!! Haha. Sorry if my comments are a little weird. (I still don't know how to comment without 'quoting' all of the post I am replying to. 😂

WestwoodW8Gazelle replied to rotoscytheben's topic in Ride On's

Hi, you probably have seen me on here before. Haha. I had a Westwood Bug and my one had a Briggs 3.5hp (I think) engine in it. It was painted the original white as well as wheels. I just wondered, did Westwood later switch to Tecumseh of vice versa in the later years of manufacture of the bug? Thanks. Would love to see some more pictures! Haha.

Thank-you very much, excellent news about the pulleys. I have found the pulleys from new online using your part numbers. It's great, as now I can get the old girl back up and running! Haha. Thanks. 😃👍 Thanks. Haha. Its good to know some extra knowledge. Using some part numbers kindly provided by Head exam I will try and look online as some pulleys came up new same as my pulley. Thanks for the offer, if I can't find the pulleys, I may offer you something for the breaker pulleys if they are still available. Thanks for the help. 😃👍 Wow! Really? I haven't seen any adverts for Westwood early mowers. I have one for my Westwood W8 but only printed it off from Google. Haha. 😂 Would love to see a picture of the advert! Sounds interesting. Thanks. 😃 Thanks. I will check it out! 😃

Hi here's some pictures of the pulley. I am not sure what you mean by the bore. Thanks for the reply. 😀 I hope these pictures are clear enough... Thanks.

Hi, outside measurements of pulley is 2 1/2 inches from outside pulley. The diameter is 2 inches. Thanks for your reply. Much appreciated! 😀

WestwoodW8Gazelle replied to WestwoodGazelle's topic in Ride On's

Oh ok that could be a possibility. I know my Westwood is one of the first model W8 to have the updated features from your early model as mine has column gear change and also the early feature of the under slung exhaust. As I think the gazelle 'pale face' model was still being manufactured until I think 1984. In fact my gazelle has no dash board lights! Compared to later models they do have lights next to steering wheel. It's difficult to map how Westwood have thought about what features for what models. Ha ha. 😂

WestwoodW8Gazelle replied to WestwoodGazelle's topic in Ride On's

Hi, my last digits of my engine serial number is 790206. So my gazelle would be made on 6th February 1979 if that's correct. But then I thought my gazelle was a 1978 as on the badge with chassis no. it said W8 78.

Yeah same here, I used to have a Lawnbug about 3 years ago until I gave it away!!! Unfortunately back then I wasnt clued up with Westwood mowers. It had white rims original Westwood orange paint and weirdly enough the engine was painted white! I tried to get it running thinking it was a fuel problem but I think again it was the points and condenser. I gave it to a young lad who says he's going to do it up. But that's what they all say. If I could I would get that Lawnbug back but it would probably be near on impossible and to add to the chaos at the minute I'm looking for a really early Westwood W8/W11 Gazelle, that has all the early early features. My 78 has a few but has not got the straight foot rests or the gearstick in the middle and many more features like that.

WestwoodW8Gazelle replied to WestwoodGazelle's topic in Ride On's

Hi, ok I will have a look at the last numbers and will let you know. I never would of worked that out! Thanks. I am currently away at the minute so won't be able to have a look until Monday next week. It will be interesting to know what mine is. This is the only picture of my Westwood that I have at the minute, but i will post a video if it running as well as other photos if you would like. In this pic you will probably notice the seat has no edging, this is because when I took the photo last year I was in the middle of fitting new seat and sorting rust problem under the cushioning. I was surprised at the rust being so much of it under the foam. Ha ha. Thanks.

WestwoodW8Gazelle replied to WestwoodGazelle's topic in Ride On's

Ok, thanks for the part numbers as this will be a great help, i have also printed off a Westwood W series manual. If you want to print it off go to the official Westwood site and go to the help page and it should be under user manuals. Thanks for the reply, and hopefully i can get the Gazelle jumping for joy again!! Ha ha.

WestwoodW8Gazelle replied to WestwoodGazelle's topic in Ride On's

Hi, yeah, i will be sure to show you some pictures of my W8 Westwood Gazelle and perhaps a video of it running if you would like. I am currently going away for a couple of days but will try to remember to send the pictures when i return. My Gazelle is a 1978 model W8 and was manufactured at Bell Close, Plympton, Plymouth. It has the column gear change 1-5 inc reverse. 8hp Briggs engine which has been on the mower all of its life! White grill 'pale face.' Done some work to it when purchased last year on Ebay. I have changed air filter for the first time in 39 long years! I have also changed the oil and fitted new points and condenser as after a few minutes of running the mower it used to cut out completely!! Now starts on key. Engine runs great. I also done a little restoration on deck but i think i went a little over board with what i had done. Sadly the clutch pulley has given up all life and had fallen off the mower so i lost control over the clutch!! Happened two weeks back when cutting. I have ordered a new drive belt and have also tried to order two new pulleys. Pulleys arrived a couple of days ago with belt, but was not convinced that they were the right ones so sent them back. Kept the belt. Thats the life story so far. Ha ha. Gazelle has now lost the use of her legs for now!! She will soon be fixed once i find parts. Thanks for reading.

WestwoodW8Gazelle replied to WestwoodGazelle's topic in Ride On's

Hi, I am really in to these Westwood Gazelle white grills, I have a Westwood W8 1978 Gazelle and I have never seen this early model of Gazelle!? Would love to see and read more about it. Thanks.